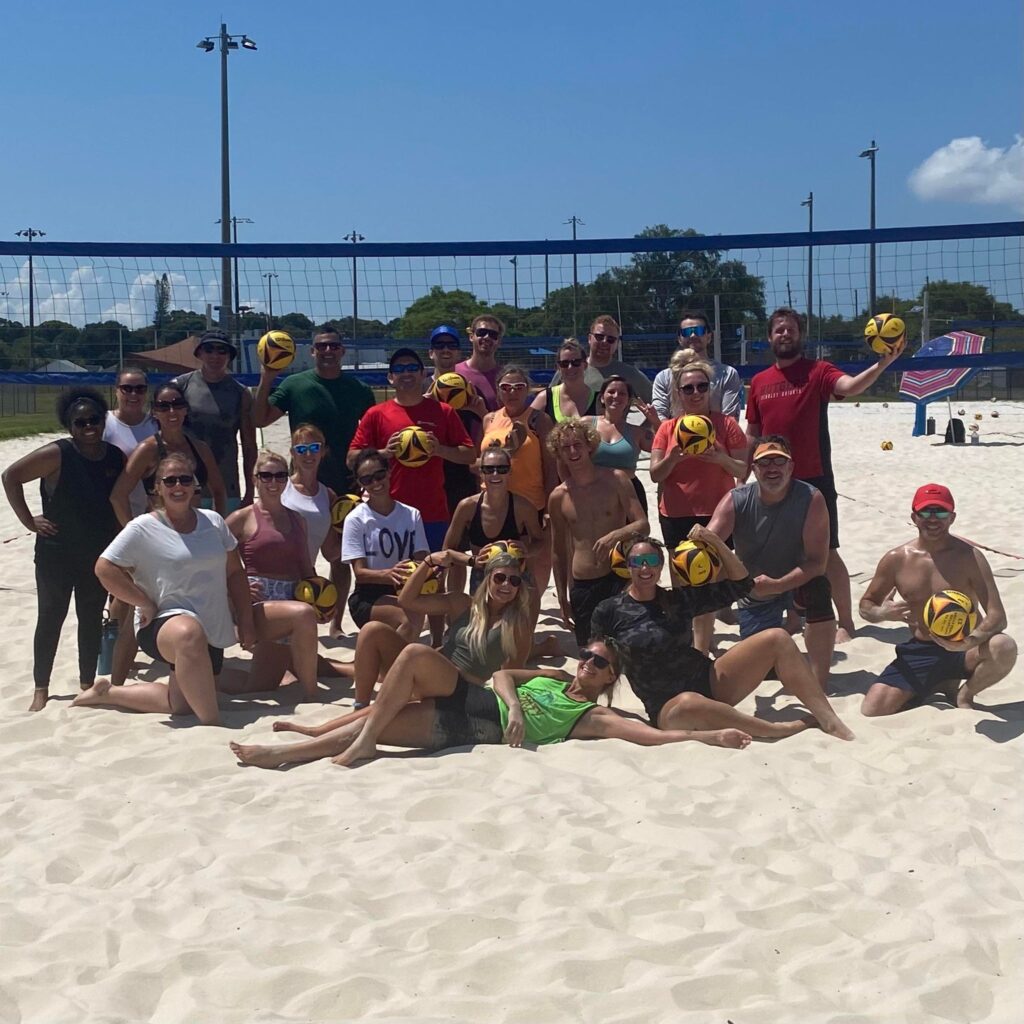 101 FAQ
Q: What is Volleyball 101?
A: Volleyball 101 is an 8 week crash course teaching the basics and breaking down the fundamentals of beach volleyball. This course is tailored to beginners or individuals who haven't learned the basics/played in years. Our board of high level coaches created the 101 curriculum to be curated to progress your skill and Volleyball IQ each lesson. This curriculum is based on a 16 lesson curriculum so it is highly recommended if you are able to sign up for the 8x/mo (2x/week) class package to see the most progress.
Q: I just signed up for a membership, what now?
A: Congrats! You took the first step to becoming a baller! First step is to download the Mindbody App (the pink & orange one). Click the search button and type in Volleyball Solutions. You will see the schedule and you can book the days you want to come to classes using your class credits. This notifies your coach you are going to attend class and they can create better lesson plans according to the quantity of students. Then wherever/whenever your class is, show up in athletic gear, BRING WATER and it's time to ball out! *Reminder* you can see how many class credits you have left and when the credit reset day is for you on the Mindbody App.
Q: What is Mindbody? Why do I need it?
A: Mindbody is our booking software, we use it so you can book classes with us just from your phone! It is highly encouraged you book your classes prior to coming to class. If you forget, your coach will check you in so that your class credit is being used for that class.
Q: How long is the membership commitment?
A: When you sign up for a membership, it is always a 2 month (8 week) commitment. Classes and leagues are both 2 month commitments from when you sign up. After those 2 months, it is assumed you are continuing with your membership and you will continue to be auto drafted until you email Customer Service for any changes. Su[email protected]
It is the clients responsibility to cancel their membership through the customer service email before their next month of services begins. This is on our refund and cancellation policy on our website which is also on all customer accounts through mindbody. We do not offer refunds for memberships that have started. We do not make exceptions to this because it is something we would be obligated to do for everyone if we do it for you and it would complicate our business significantly.
Q: Where do I go for class?
A: If you are ever confused about where to go for class, go to the schedule tab in our website and look at which class you are in and it will say the location immediately below. You can also go to your specific level page, scroll to current cycles and they have all the locations listed for each day.
Addresses:
Northshore: 901 N Shore Dr NE, St. Petersburg, FL 33701
Woodlawn: 1845 17th Ave N, St. Petersburg, FL 33701
JW Cate: 5801 22nd Ave N, St. Petersburg, FL 33710
Q: What should I expect from classes?
A: You should expect 1.5 hours of fun, sun, sand and balling with an awesome crew! You will always begin each class with a group warmup and proceed with drills and game play. Each lesson has an objective (see curriculum schedule in your level's web page under "Volleyball XXX Curriculum "). These lessons all build on each other to progress your skills and Volleyball IQ each practice. That objective or "lesson topic" is what you'll be learning that day and the last 10-15 minutes are always game play/game scenarios.
Q: I can only sign up for 1x/week right now? How do I navigate the lessons?
A: If you signed up for 1x/week 101, your path is going to be a 16 week crash course to get through the entirety of the Volleyball 101 curriculum. This may look like for example: You are in a Monday/Wednesday 101 class wave. Mondays usually work best for you to come to volleyball, you will be attending lessons 1,3,5,7,9,11,13,15. After lesson 15, everyone in your class that attended 2x/week will be graduating to 201, you will continue in a new wave of 101 and try to hit lessons 2,4,6,8,10,12,14,16. After you complete that, you will graduate to 201!
You are always able to choose which lessons you want to come to or miss. It is highly recommended to look at the curriculum schedule and cross off which lessons you attend and make note of which ones you miss. The coaches do not keep track of this for you.
Q: What if I miss a lesson or 2?
A: Totally fine! We get it, adults are BUSY. We have classes and leagues 7 days a week because of this. If you ever miss your regular wave practice, you can book a different wave class date in place of it. This being said, our 101 waves are always 2 weeks apart so that other 101 wave will be learning a different lesson than you missed, but every lesson with our amazing coaches you are going to be learning something! You have a specific amount of class credits depending on your package you signed up for, if you miss one, you can use it a different day no problem!
Q: Can I use a class credit for a league date?
A: Absolutely! You have to let us know prior and since the leagues are generally 3 hours long, it will take 2 class credits to join a league instead.
Q: What happens after the 8 week crash course?
A: After you finish the 16 lessons in Volleyball 101, you will graduate and move up to Volleyball 201 where you will begin to learn more advanced concepts, 2 vs 2 volleyball, and continue progressing your skills! Look at Volleyball 201 page for the 201 curriculum lessons! AGAIN, if you wish to be done with volleyball classes after the 8 week crash course, you MUST email Customer service at [email protected] notifying them to cancel your recurring membership BEFORE it renews.
Q: What are the cancellation policies?
A: we do our absolute best to handle cancellation requests immediately when they are received, but we are a small business. We ask for a 3 business day cancellation window BEFORE your card is to be autodrafted. If your card is going to be run on a Saturday we will only promise you that your cancellation will be processed if you cancel by Wednesday at 5PM. This is usually not an issue as we handle customer service M-F from 9AM-5PM but we cannot be chained to the customer service desk if we are having other more pressing business concerns when they arise. If you cancel on a weekend, your cancellation will not be processed until the following business week and we do not issue refunds for memberships that have processed. 3 business days meaning M-F and not including federally observed holidays. Thank you for understanding this policy.