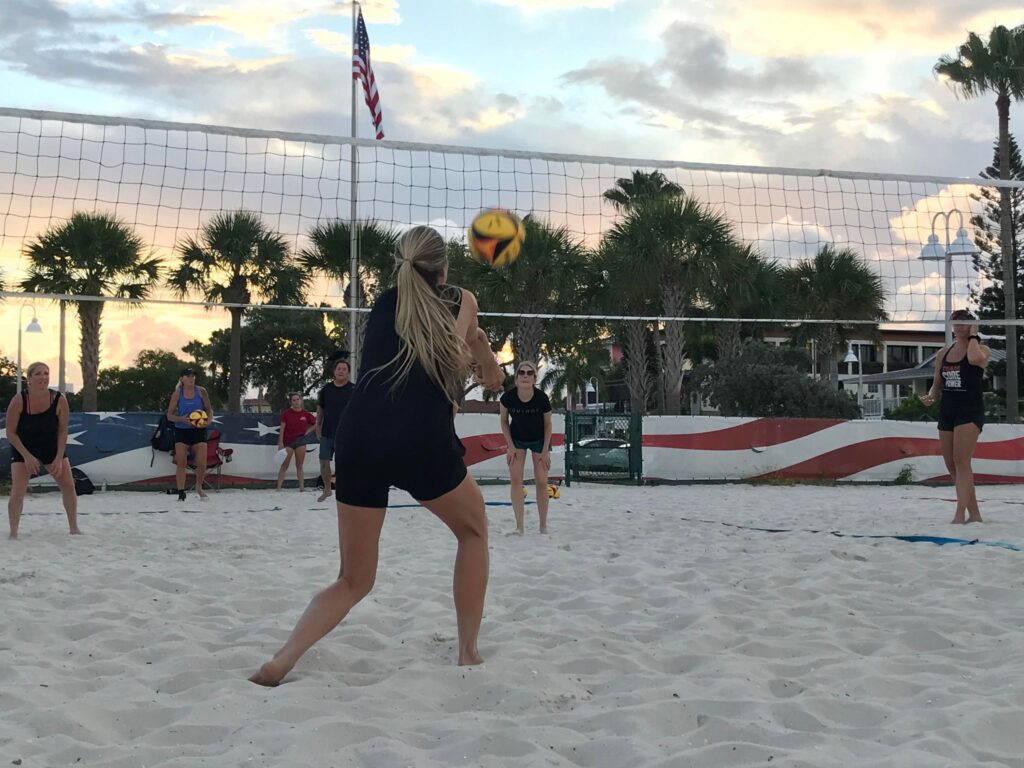 INTRO CLASS (See availability at checkout)
Welcome! Are you looking to get involved in beach volleyball, but don't know where to start?
You're in the right place. We are an adult beginner & intermediate beach volleyball club for adults, and host events (classes, leagues, bootcamps, themed tournaments, and more) 7 days a week!
For beginners, that's 6 days a week! Including our 16 class "beginner to badass" program, an assortment of leagues that you can sign up for as an individual player, and more. We make it easy to play.
Not a beginner or have a hectic schedule? We've got you covered.
As an adult beach volleyball club, we understand life is crazy! With 40+ monthly events to play in, you'll never miss out on an opportunity to learn at your level, even if your calendar is even more packed with fun than ours.
The best part is, all of our events have a professional coach to teach you all the skills, language & culture of beach volleyball. You won't find clique-ey people here! Feel welcome at Volleyball Solutions.
We're so much more than a club. Learn to play the game, hit your goals and meet your trybe.
The First Step: Intro Class
Before you jump into any of our events, you need to complete the Intro Class which is a 2 hour session learning or refreshing the basics and fundamentals of the building blocks of beach volleyball; passing and serving.
Check the Intro Class off of your to do list and unlock the full power of a Volleyball Solutions member.
Why:
We want to meet you and help you find the level that's right for you.
Beginner players need to learn the 4 key skills before joining the beginners program.
Refresh the current beach volleyball rules (they change all the time)!
Valuable skill information players of all levels can benefit from.
Our vibe is important to us! We have a very strict no a**holes policy. Vibe check.
Our intro class is a great place to start if you want to try beach volleyball as a new hobby, before committing to a full month of events with us, the intro class is required before joining the fun (unless special exceptions are made).
Come see if we are the right fit for you and your goals. If you hate us we'll give you your money back, guaranteed. You have nothing to lose.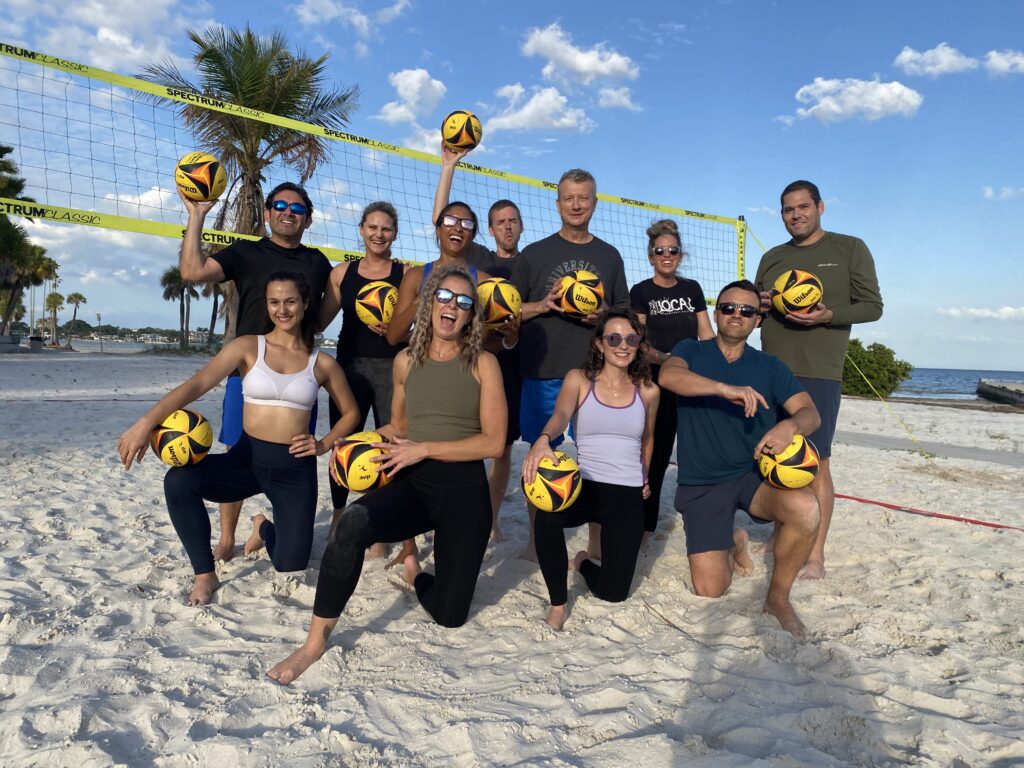 Intro Class Details: Passing/Serving
What: 2 hour class for beginners or newcomers to get a taste of what Volleyball Solutions events are like.
Where: 1601-1699 19th Street N, St. Petersburg, FL.
When: Tuesdays 6-8PM
The Intro Classes coming up are specified in the checkout link. The schedule will hold the dates for the next event you can book. All bookings are first come first serve.
Learning Objective:
Basic platform passing form
Overhand serving
Rules of the game
Very brief (and fun) safety info
Probably some sweet new dance moves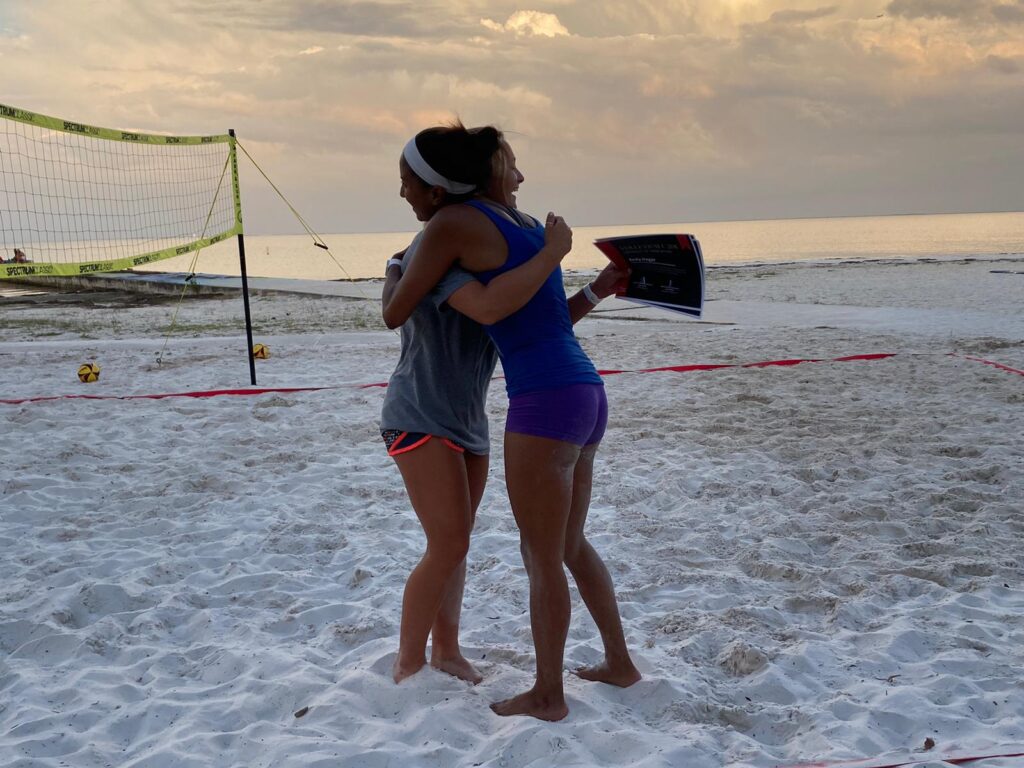 What comes after completing the 'Pre-Req' Starter Course?
Once you've completed the Intro Class, it means you unlocked the key to joining all the fun! You are cleared to join ANY of our classes & leagues that match your level.
Be sure to talk to your coach about how our unlimited class & league memberships work, we have packages for all commitment levels! With 40+ monthly events, you can practically play as much as your schedule allows.
For beginners, our classes cover 16 unique skills that players use to master the beach game & gain the knowledge to progress to our other programs! "Hey Alexa, play level up."
Not a beginner? No worries, you'll get a ton of information on skills you already have, cues to improve your form and reps to help get rust off. When you're done, our coach places you at your level.
Can't Make Tuesday's?
If the Intro Class doesn't fit your schedule, no worries. As an adult club, we know life can get busy. Book a private lesson, or tell us about your experience by texting or calling 813-563-6556.
Book your Try Beach Starter Course BELOW!